Powder Coating Options: All Wet Step products can now be ordered in many great colors to match your dock accessories, boat or even your favorite team. Powder coating will protect your ladder from discoloring as aluminum will oxidize in water.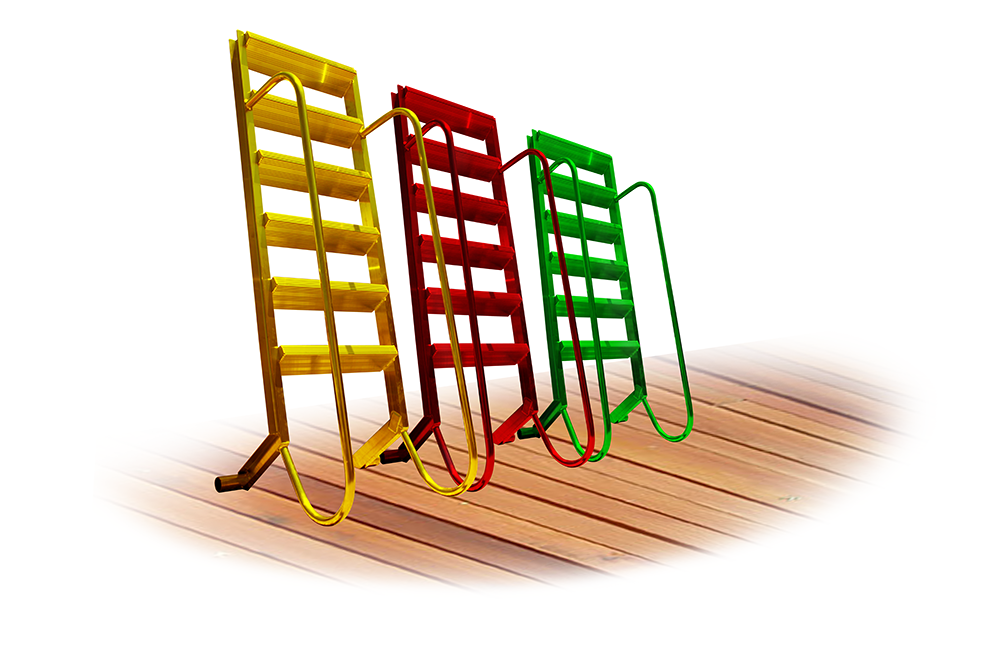 (X)
This color no longer available
This color chart is offered to the Missouri and most midwest dealers but please check with your local dealer to check on which colors they offer.
WetSteps has 2 Different Options: Welded vs *Bolt Together
The bolt together was designed with the same angle and ease of getting out of the water, but has a few differences in dimensions/specs so can easily ship all over the country for affordable freight. The bolt together ladders require simple assembly to bolt the steps into the frame where the welded version requires no assembly and is ready to install.
* Bolt together ladders have limited color choices
Solid Red, Blue, White, or Red/White/Blue version along with all 3 hammered colors plus clear.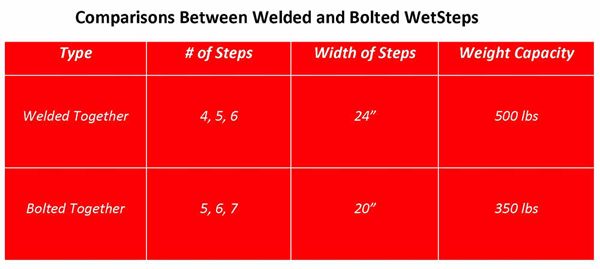 Need Touch Up Paint?
Touch up scratches and dings with the exclusive line of color matched touch up paints form
Ceramifix
.
How Much Weight is Each Ladder Designed For?
When mounted securely and properly to the dock/pier structure, the ladder will hold 500lbs. The bolt together 350lbs if assembled correctly.
.
What Size Are The Steps?
On a welded together – steps are 24" wide & 6" deep. On a bolt together – 20" wide & 6 " deep.
How Far Does It Drop In The Water?
Even though the WetSteps come out at an angle, the straight down measurement from mounting surface to the bottom step (which is not designed to touch bottom):
4 step 42"
5 step 52″
6 step 62″
7 step 72"
PLEASE SEE THE CHART ON THE WETSTEPS PAGE ABOVE TO DETERMINE HOW MANY STEPS YOU NEED!
How Heavy Are The WetSteps? Can I Lift Out of The Water?
Since they are all aluminum construction, they are very easy for young and old to lift out of the water. They range 30-40 lbs depending on size and are considerably lighter than steel and wooden ladders.
Will My Ladder Stay Looking New?
Just like a pontoon boat, when aluminum is left in the water, it will discolor. You will see a water line unless you use choose a powder coating option. Or you can apply an aluminum protectant coat yourself such as Sharkhide before you install.
Can It Be Taken Out Of The Water For Storage?
Yes. Simply rotate it out of the water when not in use. Every WetStep comes with a lock in to hold in place in case of heavy winds.
Can I Leave It In The Water When Not In Use?
No. It is recommended to remove it from the water when not in use to prevent algae, barnacles, etc. from growing. These types of build-up can make any step slippery, so take it out of the water to keep it clean as aluminum will discolor in water.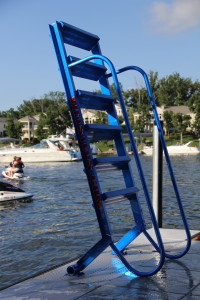 Does It Rust?
All metal oxidize; however, unlike other metals, aluminum performs extremely well in water. Please note: Aluminum will never rust although it will discolor in water.
Where Are WetSteps Made?
Made in the USA – Lake of the Ozarks, Missouri. Shipping rates will vary from state to state.
Is There Any Kind Of Warranty?
All Wet Steps dock products have a 10 year warranty on the construction however there is no warranty on powder coating.
Can I Still Pull A Boat Up Alongside My Dock?
Will This Work For Pets?
How Do I Get One?
Click here to locate a dealer near you. Most of them can help you with delivery and installation or shipping.